Sarah Rodriguez
Associate Professor of Instruction, Global Health Studies; Lecturer, Medical Education; Senior Faculty, Medical Humanities and Bioethics
PhD University of Nebraska Medical Center 2005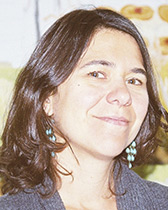 312-503-2887
1800 Sherman Suite 1-200 #1-111
Research and Teaching Interests
History of women's reproductive and sexual health, contemporary concerns regarding women's reproductive and sexual health internationally, history of clinical practice and research ethics
Biography
Sarah B. Rodriguez is a medical historian who focuses on women's reproductive and sexual health since the early 20th century, and how history has framed current discourse.
Her second book, The Love Surgeon: A Story of Trust, Harm, and the Limits of Medical Regulation, is from Rutgers University Press. Her first book, Female Circumcision and Clitoridectomy in the United States: A History of a Medical Treatment, was published in 2014. Rodriguez is currently working on the history of the 'standard of care debate' regarding the mid-1990s trials to reduce the likelihood of vertical transmission of HIV from mother to fetus and on the history of episiotomy as a standard of care. Her next project will concern the history of the International Confederation of Midwives and maternal health.
Prior to joining Northwestern's faculty, Rodriguez was a postdoctoral fellow at Northwestern University, first in the Woodruff Laboratory with the Oncofertility Consortium and then in the Medical Humanities and Bioethics Program.
Global Health Courses Taught
Recent Publications
Listen to a New Books Network interview with Sarah Rodriguez on her book The Love Surgeon
Rodriguez, S. (2015). Watching the Watch-Glass: Miriam Menkin and One Woman's Work in Reproductive Science, 1938–1952. Women's Studies, 44(4), 451-467. DOI: 10.1080/00497878.2015.1013215
Listen to a Vocalo.org interview with Sarah Rodriguez 
Read an interview at the Global Health Blog with Sarah Rodriguez 
Rodriguez, S. B. (2013). Female sexuality and consent in public discourse: James Burt's "love surgery". Archives of Sexual Behavior, 42(3), 343-351. DOI: 10.1007/s10508-012-0030-8
Rodriguez, S., Campo-Engelstein, L., & Emanuel, L. (2013). Fertile future? potential social implications of oncofertility. Journal of Clinical Oncology, 31(6), 665-667. DOI: 10.1200/JCO.2012.44.0990
Rodriguez, S. B., Campo-Engelstein, L., Clayman, M. L., Knapp, C., Quinn, G., Zoloth, L., & Emanuel, L. (2013). Pathways toward the future: Points to consider for oncofertility oversight. Journal of Cancer Survivorship, 7(1), 140-145. DOI: 10.1007/s11764-012-0255-5
Campo-Engelstein, L., Tingen, C., Rodriguez, S., & Woodruff, T. K. (2012). Conceiving ethical gamete and embryo research in a post-dickey-wicker USA. Science and Public Policy, 39(1), 129-132. DOI: 10.3152/030234212X13214603531888
Rodriguez, S. B., & Schonfeld, T. L. (2012). The Organ-That-Must-Not-Be-Named: Female Genitals and Generalized References. Hastings Center Report, 42(3), 19-21. DOI: 10.1002/hast.35
Back to top