Beatriz Oralia Reyes
Assistant Professor of Instruction, Global Health Studies
DrPH Drexel University 2016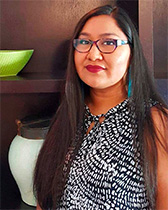 1800 Sherman Suite 1200 #1-108
Research and Teaching Interests
Public health, chronic disease prevention, diabetes prevention, fidelity of implementation, translation research, health disparities, community-based participatory research, qualitative research, program implementation, program evaluation, social justice, and health policy.
Biography
Beatriz O. Reyes (Diné/Tepehuán) is a public health practitioner whose work focuses on the development, implementation, and evaluation of evidence-based programs addressing health disparities through a community-based participatory research approach.

Reyes's research interests work at the intersection of chronic disease prevention, program evaluation, and qualitative research. Her research and teaching aim to explore the best practices for developing culturally appropriate and sustainable interventions by working with communities through the research process. In addition, her research seeks to understand the experiences and behaviors of those implementing health education programs.

In her past research, she assessed the experiences and behaviors of lay health facilitators in a faith-placed prediabetes prevention program in two churches in Philadelphia, Pennsylvania. The initial Diabetes Prevention Program (DPP) was a multi-center clinical trial that found a seven percent weight loss reduced participant's risk of developing type 2 diabetes by 58 percent. The DPP study outcomes highlighted the potential to equip communities with a lifestyle intervention to reduce the impact of type 2 diabetes. However, there is a lack of research on the translation of the DPP to fit the culture, needs, and resources of a given community. This lack of research highlights the importance of dissemination and implementation science to ensure evidence-based programs are reaching communities faced with health disparities. Through a qualitative analysis of program audio and individual interviews, Reyes assessed adaptations (deletions, changes, and additions) to program materials by lay health facilitators, better understanding the way data was created by program facilitators and participants.

In addition to her teaching position in Global Health Studies, she is a postdoctoral fellow at the Foundations of Health Research Center. Reyes's research there is focused on how to best facilitate and support healthy behavior changes among first generation college students.
Global Health Courses Taught
Back to top