Beatriz Oralia Reyes
Assistant Professor of Instruction, Global Health Studies
Dr.PH. Health Policy and Social Justice, Drexel University's Dornsife School of Public Health 2016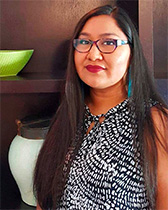 1800 Sherman Suite 1200 #1-108
Research and Teaching Interests
Public Health, Social Justice, Health Inequities, Community-based Participatory Research, Qualitative Research Methods, Program Implementation, Program Evaluation, Native American Health, and Public Health Policy.
Biography
Yá'át'ééh shí éí Beatriz Reyes yinishyé Honágháahnii nishłį́ Nakaii dine'é bashishchiin Áshįįhí dashicheii Nakaii dine'é dashinalí. Ákót'éego diné asdzáán nishłį́. Chicago kééhasht'į́. Na'nízhoozhí déé' naashá.
Professor Reyes earned her Bachelor of Science in Zoology from the University of Oklahoma and her Master of Public Health in Health Behavior from East Carolina University. She is a trained public health practitioner. Her research interests work at the intersection of chronic disease prevention, program evaluation, and qualitative research. Her research and teaching aim to explore the best practices for developing culturally appropriate and sustainable interventions by working with communities through the research process.
Professor Reyes's Native American Health Research course explores the role and impact of settler colonialism on the social determinants of health specific to Native American populations. Utilizing a public health lens, students explore and discuss approaches to sustain wellness and address health disparities within Native communities. In addition, her Community-Based Participatory Research (CBPR) course surveys the challenges and benefits of actively centering power to communities throughout the research process. CBPR recognizes and values the expertise and assets of communities, which are vital to the development, implementation, and evaluation, of public health interventions, programs, and policies. As a queer Indigenous woman she deeply values anti-capitalist approaches to her teaching and mentoring, centering and co-learning with her students. Additionally, her Native American Health Systems and Policy course seek to expose students to the complex and often challenging relationship Native nations endure with the U.S. federal government and its impact on health. In her teaching, she aims to challenge students to understand the gradients and intersections of structural oppression, theories of liberation, and asks students to consider the complexity of seeking solutions in settler colonial society.

In her past research, she assessed the experiences and behaviors of lay health facilitators in a faith-placed prediabetes prevention program in two churches in Philadelphia, Pennsylvania. Professor Reyes evaluated an adapted 16-week Diabetes Prevention Program, through a qualitative analysis of program audio and individual interviews. She assessed adaptations (deletions, changes, and additions) to program materials by lay health facilitators, which enabled a better understanding of how these facilitators and program participants generated data throughout the program's implementation. Additionally, Professor Reyes worked for 3 years at the Foundations of Health Research Center focused on how to best facilitate and support coping skills among first-generation college students, utilizing theories and strategies from Growth Mindset, Shift and Persist, and Skin-Deep Resilience. Dr. Edith Chen's partnership with the TRiO Student Support Services at a local university, provided Professor Reyes the opportunity to implement a 5-session intervention to first-generation freshmen students over the course of three years.
Global Health Courses Taught